Camborne Nursery School reaches its 70th birthday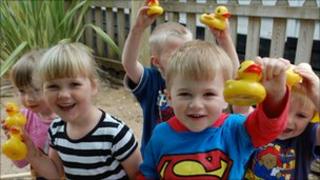 Staff, parents and children at at Cornwall nursery school are celebrating its 70th birthday.
Camborne Nursery School was the first such maintained school in Cornwall and was founded in 1941 to allow mothers to "do their bit" in the war effort.
The nursery has just received an "outstanding" rating from OFSTED.
Inspectors praised the school for being a "hotbed" of joyful learning and saluted its "outstanding contribution to community cohesion".
Nationwide wartime nursery centres were set up for evacuated young children from 1939.
By May 1941 full time employment of married women became essential.
The Ministry of Health came up with a national wartime nursery policy and within just a few months around 200 nurseries opened.
OFSTED report
Head teacher Janet Snook said she was delighted their OFSTED report coincided with the school's 70th birthday.
"It is just an accolade for all the hard work and the commitment identified from the authority and the community and what can actually be done to support young people's learning."
Parent governor Patrick McGregor said: "It's very good, teachers are very approachable, any questions they're always free to answer them.
"You have days when you can come and integrate with the children. It's a really nice place to be."
Family Services are on site as well in the "Sunshine Room" offering help to youngsters under three and their parents including art sessions and computer sessions.
The nursery's garden has become a centrepiece over the years; In 2006 an orchard was planted in what is known as the Donkey Field.
Now those trees are covered with apples and raised beds are full of lettuces, onions and potatoes - all looked after by the children.
Jez Britto who oversees the garden area said: "I think they get a fantastic opportunity to find out where the produce in their supermarket comes from. It shows them that growing something from seed needs care."