Navy train for busy summer season on Cornish beaches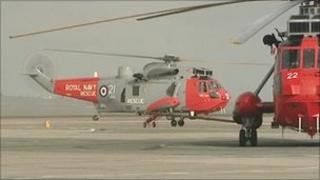 Members of a Search and Rescue Squadron are training with RNLI lifeguards in Cornwall this week.
The naval aircrew and Sea King helicopters from RNAS Culdrose in Helston will be training around the county's coastline.
They will be practicing safe landing on various Cornish beaches which become crowded in the peak season.
The 771 crews and RNLI lifeguards will also practice their rescue techniques.
They will be visiting many of the county's popular beaches including Perranporth, Gwithian, Crantock and Poldhu Cove.
Lt Cdr Guy "Chuck" Norris of 771 Squadron said he was delighted to work with the Cornish RNLI lifeguards "to ensure that we fully understand each other capabilities and skills".
Nationwide the RNLI operates more than 160 lifeguard units around the coast of the UK.
The Search and Rescue Squadron at RNAS Culdrose is on all-year-round standby to assist in land and sea rescues.
The training exercises take place on Cornish beaches 28 June.