New arrivals for mini crocodiles at Newquay attraction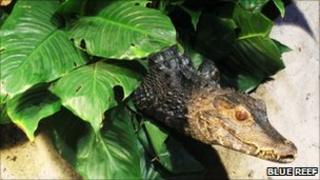 A four-foot-long crocodile which has just been moved to a Cornish attraction has laid more than 20 eggs.
The Cuvier's Dwarf Caiman, called Nibbles, arrived at the Blue Reef Aquarium in May with her partner Gnasher, from London Zoo.
The move was part of a new Amazon-themed freshwater feature at the aquarium.
The Newquay-based aquarium designed the display with a nesting area as the pair were already showing signs of mating.
'Major shock'
Matt Slater from the aquarium said: "We had noticed that the female had been off her food and had been looking more and more swollen around the belly, but to come in and discover the nest of eggs was still a major shock.
"We have been consulting with keepers at Durrell Wildlife on Jersey who have experience of captive-breeding Cuvier's Dwarf Caiman about the best approach.
"We've decided to remove some of the eggs from the nest and put them into an incubator as it's unlikely they would hatch without some outside assistance."
Incubation usually takes up to three months and, when they do hatch, the babies may take several days before they enter the water.
In the wild it is thought that the female will dig up the nest and direct the hatchlings towards water in response to their calls.
The Cuvier's Dwarf Caiman is the smallest surviving member of the crocodilian family found in northern and central parts of South America.
The new exhibition which features the Cuvier's dwarf caiman recreates the South American miniature crocodiles' flooded forest habitat.