Watchdog to meet over care concerns in Cornwall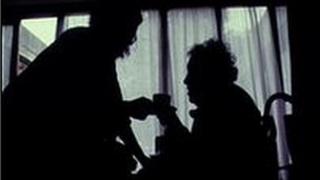 Care home workers are being encouraged to attend a public meeting with representatives of the Care Quality Commission (CQC).
Staff at 12 homes have told BBC Cornwall that many older people are suffering because of a lack of basic care and dignity.
The concerns have also affected some premises rated as "good".
The meeting, to be held in July, will allow for discussions in confidence with CQC representatives.
'People do suffer'
BBC South West Health Correspondent Sally Mountjoy said: "Care workers from a number of homes across Cornwall said how many older people are suffering from a lack of basic care and dignity, usually because there aren't enough staff to cope.
"Last month, inspectors reported serious concerns about how the elderly residents of King Charles Court nursing home in Falmouth were being looked after.
"Some people weren't getting the care or medical treatment they needed, and those who couldn't eat and drink for themselves weren't getting help and were under-nourished.
"There weren't enough staff to keep people safe."
After the CQC report, the owners of King Charles Court said they would continue to address the issues and felt they had improved the quality of care.
Care workers in a number of other homes in Cornwall have said failings like this are not uncommon.
One worker told the BBC: "You're not intentionally being cruel by making people wait, but you cannot possibly go round and give the care every person needs, so you're not doing your job properly."
One Cornish woman's experience of care homes has now prompted her to start a campaign for better care called Your Voice Matters.
Jenny Moore has invited carers to share their stories with the CQC at a meeting at Kingsley village on 18 July.
"I feel it's important for them to be able to do that away from their work environment," she said.
CQC regional director Ian Biggs said: "I'm confident that where we find examples or information that suggest there is poor care, we do respond swiftly."