New beach 'water quality' website goes live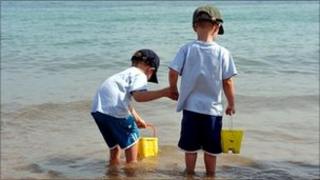 Visitors to some of Cornwall and Devon's best beaches can now check the water quality "live" on a new website.
The service, 'Beach Live', offers up-to-the-minute information on sea water quality and information about sewer overflows caused by storms.
South West Water claim "overflows in the public sewage network are rare" but they can affect the water.
The website has been developed by South West Water, the Environment Agency and Surfers Against Sewage (SaS).
'Informed decision'
The 'live feed' covers 16 beaches across Cornwall and Devon.
Mr Cummins, SaS campaigns manager, said: "People will have a real-time warning when a sewer has overflowed.
"It will allow them to make an informed decision about when they go in the water."
SaS is also providing a text message service to people who register on the site, for swimmers and surfers already on the beach.
Mr Cummins said there were an estimated 22,000 combined sewer overflows around the UK coastline and after heavy rain there was a risk of them overflowing and discharging sewage into the seawater.