NUTs fear over Cornwall academy trend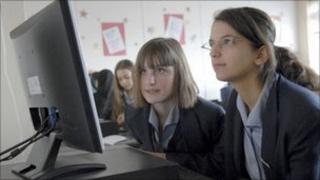 The number of Cornish schools opting to become academies is worrying one of the biggest teaching unions.
The National Union of Teachers (NUT) said the high numbers opting out of local authority control could lead to a two-tier system within the county.
Seventeen schools have already become academies and another 24 are in the pipeline.
There are 274 schools in Cornwall, including 31 secondary and 237 primary schools.
More than 90 schools have 100 or fewer pupils.
'No local accountability'
Currently the local authority can use its funds to help keep them going but the NUT said it was concerned this money would be reduced with every school which became an academy.
Academies are publicly-funded schools which operate outside of local authority control.
Ian Williams, divisional secretary for the NUT in Cornwall and Isles of Scilly, said he was concerned about the future of the county's education system.
He said: "If you look at the quality of education that has been delivered in Cornwall we're looking at a very high quality.
"That is where we had all the schools working under the umbrella of the local education authority.
"Schools are now moving out of that family and becoming independent state-run schools.
"It is vitally important we have a means by which the delivery of quality education to young people in Cornwall is accountable to our communities.
"Academies are independent state-funded schools. There is no local accountabilty."
'Huge' numbers
Nationally the number of academies has grown under the Coalition government from 203 in May 2010 to more than 650 primary and secondary academies.
Sandy Hill Academy, in St Austell, mid Cornwall, was one of the first to convert.
Headteacher Rachel Carter said she believed the fear of knock-on effects reduced as more schools opted for academy status.
"I think the numbers of schools that are interested in academies and actually are moving towards them are huge.
"The fears that there were just going to be a few, that has gone now, because so many schools are interested in going through."
Neil Burden, Cornwall Council's cabinet member for education, said he also had concerns about the trend for schools becoming academies.
He said: "Academies will be able to choose outside their catchment area. They will be able to select pupils.
"Within a rural area, if one school went academy or became a free school, there could be real problems for access for other children."