Racing pigeons rescued on Scilly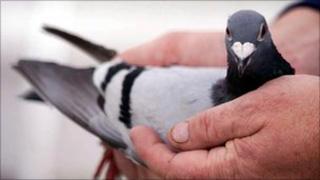 An artist living on St Mary's, Isles of Scilly, has raised concerns about the number of racing pigeons she has recently rescued.
Patsy Swanborough thinks the birds were disorientated at the start of a race in Cornwall by descending mist.
The birds were en-route to Ireland but may have been confused by low level cloud and turned back.
Eighteen birds have been despatched to their owners but another seven have since been rescued.
Kerry Mallet, regional secretary of the Royal Pigeon Racing Association (RPRA), says great care is taken in releasing birds for a race.
"We have a race advisor who does what is called a 'line of flight'. He would check every possibility of the weather being good so that all the birds would have a good chance of getting back," he said.
He stressed however that "weather changes, incorrect weather forecasts, thermal currents and even mobile phones can affect the atmosphere".
Patsy Swanborough began rescuing exhausted or wounded racing pigeons nine years ago.
The RPRA were so appreciative of her efforts, they gave her a £1,000 to help build a loft.