Cornwall Council awarded for disabled care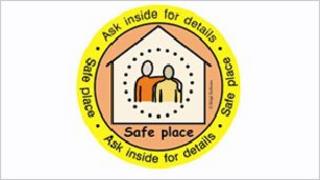 Cornwall Council has won an award for its scheme which promotes the safety of disabled people.
The Safe Places Scheme won the Diversity Achievement of the Year Award at this year's Municipal Journal Local Government Achievement Awards.
The council was also shortlisted for the best achieving council of the year award.
Council leader Alec Robertson said: "This shows how far Cornwall has really come in the last two years."
The Safe Places Scheme, supported by the police and disability support group Cornwall People First, helps people with learning disabilities deal with harassment and bullying.
Window stickers are issued to shops and other establishments that sign up to the scheme.
Staff in the safe place venue will be able to assist anyone who goes to them for help.
More than 250 establishments have signed up across Cornwall since the Safe Places scheme was launched in February 2010.
Mr Robertson said: "One of our key areas of improvement has been in adult care and support and I am delighted that the judges have recognised the success of our Safe Places partnership."
Judges at the award ceremony said: "The innovative partnership had a real impact on the quality of life for adults with learning disabilities, helping them to have the confidence to lead independent lives."
Councillor Armand Toms, Cabinet member responsible for adult services, said: "This award is national recognition of the great work we are doing in Cornwall to support people with disabilities to live full and active lives in their community."