Cornwall self-build project backs call on lending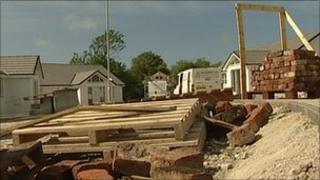 A self-build housing project in Cornwall is backing calls by the government for mortgage lenders to support similar schemes.
Housing Minister Grant Shapps said he wanted lenders to create a "self-build revolution".
In 2008, 12 people in the Rock area helped build their homes on land donated by a farmer in a project run by the St Minver Community Land Trust.
They said easing lending would help create more similar projects.
The government is in the process of releasing surplus land for housing development, with the aim of providing 100,000 new homes by 2015.
Some plots will be reserved for self-builders.
But financing projects such as St Minver has caused headaches.
The builders found only two lenders would offer money and it had to be delivered in stages instead of up front.
North Cornwall MP Dan Rogerson said: "Where it involves schemes with local restrictions to keep them affordable in the local community the government could be doing more.
"Certainly lenders could be doing more to come up with forms of mortgages that will make sure we create a whole new flourishing sector across the country in the way that this scheme has done for the local community."
The St Minver project arose out of a need for affordable housing in the area.
It was kick started by farmer David Wills who sold his land to the trust for a fraction of its market value.
A condition of buying also means the property will stay in local hands.
The trust can buy the houses back when people want to move on.
The Council of Mortgage Lenders says it recognises the need to increase housing supply and given the problems of affordability, self-build is "one part of the solution".