Dinghies to cover Vikings' route from Wick to Arctic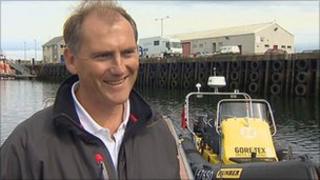 An adventurer is leading a group of seven on a quest to follow the Vikings' route by sea from Scotland to the Arctic Circle - in inflatable boats.
Pete Goss, from Cornwall, set off from Wick, northern Scotland, heading off to the rocky coasts of Norway and then the Arctic.
He said he hoped to complete the route, in his 20ft dinghy, in six days.
It is believed to be the first time the route has been battled in such a small inflatable boat.
His vessel, a powered "rigid inflatable boat" (RIB), is expected to travel an average of 120 miles a day at an average speed of about 20 knots.
Mr Goss said: "My first experience of RIBs was during my time with the Royal Marines and from that moment I was hooked.
"Having owned a couple of big RIBs, I've learned how capable these boats can be in testing ship to shore operations and also how much fun they can."
'Immense fun'
The other members of the team taking part in the Gore-Tex Arctic Challenge include fellow adventurer Hugo Montgomery-Swan, musician Julian Hutson-Saxby, sailor Paul Lemmer, Andy Warrender, Mark Beeley, marketing expert Ed Gould and Daily Telegraph columnist Bryony Gordon.
Mr Goss said the open vessels would offer the challengers little protection from icy winds across the North Sea.
He added: "It will be testing for sure, but immense fun too."
He said the boats would "make the perfect vehicles for exploring the rugged Scottish coastlines, the fjords of Norway and the dramatic cliffs at truly close quarters".
Mr Goss has previously clocked up 250,000 nautical miles at sea.
He was awarded the Legion d'Honneur for saving fellow sailor Raphael Dinelli in the 1996 Vendée Globe solo around-the-world yacht race.