HMS Cornwall: Devonport ceremony marks end of frigate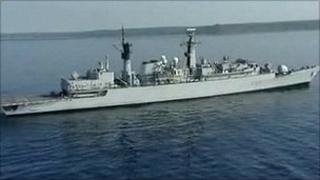 HMS Cornwall is to be decommissioned at a ceremony in Plymouth.
The ship's patron, Lord Lieutenant of Cornwall Lady Mary Holborow, will carry out the ceremony among invited guests.
The Chaplain of the Fleet, the Reverend Scott J Brown, will lead a service on the jetty, followed by the lowering of the White Ensign.
Commanding officer David Wilkinson said the ceremony "will be a sad occasion for all of us involved".
The government announced last December that four frigates were to be decommissioned under the strategic defence and security review.
HMS Cornwall, a Type 22 frigate with 23 years' service, was axed as part of £4.7bn government defence cuts over four years.
It is the last of the four Devonport warships being scrapped - with HMS Cumberland, HMS Chatham and HMS Campbeltown already gone.
HMS Cornwall was involved in counter-piracy missions in the Indian Ocean as well as escorting many tonnes of equipment to forces in Afghanistan.
It was launched in October 1985 and commissioned at Falmouth, Cornwall, in 1988 by Diana, Princess of Wales.