Concerns for Cornwall's community hospitals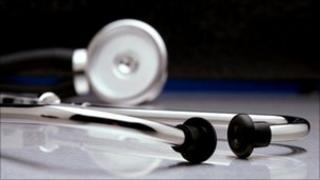 A health service union has criticised leaked proposals that would have seen the private company taking over Cornwall's community hospitals cutting beds by 20%.
Unison says it is concerned about the plans which were contained in a draft version of a business plan leaked to the BBC.
The Primary Care Trust said the proposals have now been dropped.
But Unison said it the issues raised should have been debated in public.
The BBC-obtained copy of the confidential plans discusses cutting the number of hospital beds by 20%, reducing the range of health services and cutting £6m from the health service budget in Cornwall over the next three years.
Chris Musgrave from Unison said: "These proposals affect every service user in Cornwall and they also affect our members.
"It is in the public interest that these things are challenged, debated and thought about properly before they are implemented."
'No axes falling'
The document discussed cutting the number of beds in Cornwall's community hospitals by 54, equivalent to about 20% of the total stock.
The Primary Care Trust said the bed reduction proposal did not survive the final business plan, which was accepted by the PCT Board on 28 June.
Steve Moore, chief executive of the PCT in Cornwall said: "The plan that has been approved by the Primary Care Trust this week doesn't include any reduction in bed numbers. I want to be very clear on that point."
The leaked document also talked about cuts in health service spending in Cornwall. Those cuts were not removed from the final business plan.
Mr Moore said: "It's quite easy to talk about cuts. There are no axes falling anywhere.
"There's no reduction in the amount of money the NHS is receiving in Cornwall over the next few years, but we also know we have a growing elderly population. There is no money leaving the system. This is about how we use the money better."