Disney success for Cornish company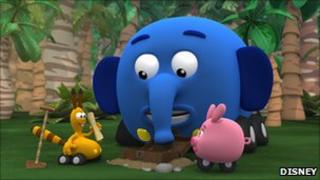 A Cornish animation company has secured a second series with the global giant Disney after the success of its cartoon Jungle Juntion.
Spider Eye Productions based in St Just in west Cornwall has been working on animation projects since 1998.
Jungle Junction follows the adventures of a group of animals on wheels as they explore their jungle home.
It was the first animated pre-school series from Disney's European development team.
Spider Eye started in London but moved to Cornwall in 2001.
Spider Eye director Morgan Francis said: "We created a pilot over 10 years ago. We took it around to many broadcasters.
"We took it to a cartoon forum. A Disney person came to the show looking for ideas and it went on from there."
'Oasis in a desert'
Part animal, part vehicle, the inhabitants of Jungle Junction, also known as "Wheelers," include Zooter, an energetic pink pig scooter who is the town messenger and the Beetlebugs, the playful youngsters of the jungle.
Erica Darby, the company's producer, said: "At the beginning of the show you can see it's like an oasis in a desert.
"It's a very self contained little world. It's about a community getting along."
Mr Francis said: "The audience figures and the ratings of series one helped to give Disney the confidence to do series two. We're halfway through."
Its creators said Jungle Junction is designed to encourage preschoolers to think about their impact on the natural world with colourful characters which promote positive environmental messages.
The new episodes are now broadcasting each weekend on Disney Junior.