Legal challenge to St Dennis incinerator decision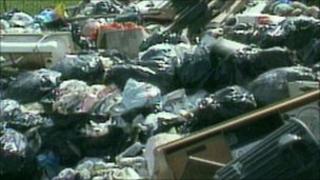 Campaigners fighting plans for an incinerator in Cornwall have mounted a legal challenge against the secretary of state's approval of the project.
In May, local government secretary Eric Pickles backed Sita UK's appeal against the refusal of the St Dennis project by the former county council.
But Cornwall Waste Forum said nearby Special Areas of Conservation were not assessed.
The government said it was a legal matter and could not comment.
Ken Rickard, chairman of the forum, said it had lodged its legal challenge in the high court and expected there to be a hearing in a few months' time.
"Our big issue is that the correct procedure was not adopted by the secretary of state and we are challenging that process," he said.
Mr Rickard said the incinerator's impact on three conservation areas, Gossmore, Tregos and Breney Common, had not been properly assessed.
£320m loss claim
He added the group's main objection was regarding the potential health risks from emissions from the incinerator combined with those of existing china clay drying plants in the area.
Sita, which was awarded a 30-year contract to manage Cornwall's waste in 2006, wanted to build a £117m incinerator in St Dennis.
The firm said the Cornwall Energy Recovery Centre (CERC) would be able to generate enough electricity to power 21,000 homes while burning thousands of tonnes of non recyclable waste.
However, hundreds of people signed a petition against the plant and the county council refused planning permission in March 2009.
Mr Pickles backed Sita's appeal against the decision on 20 May and recommended planning permission be granted, subject to conditions.
Cornwall Council, which was created as a unitary authority in April 2009, had urged Mr Pickles to back the plans.
Alec Robertson, leader of the Conservative-Independent-run authority said it would lose £320m if the plan did not go ahead because of costs such as cancelled contracts.
The council said it had noted the action of the campaign group but had no further comment.
A spokesman for SITA UK said: "We have been notified of a challenge that has been made to the secretary of state's decision to uphold the appeal for the CERC.
"The matter will now be subject to further legal process and it is therefore not appropriate for us to comment further."