Grass fire at Marazion battle re-enactment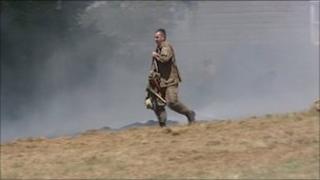 Firefighters were called after explosives in a battle re-enactment set light to grass in Cornwall.
A crew from Penzance extinguished the fire at the Armed Forces Day event in Marazion.
Organisers had used their own water hoses to put out most of the fire before the crew arrived.
Firefighters praised the organiser South West Battle Group for its work which prevented the fire from spreading to nearby houses.