Newquay under-age drinking: Parents urged over alcohol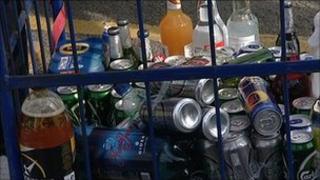 Police have appealed to parents to "be responsible" and not give alcohol to teenagers heading for Newquay after their GCSE exams.
Devon and Cornwall Police confiscated 433 bottles and cans from 16-year-olds arriving at the Cornish resort over two days.
Police believe most had been supplied by parents and asked for more support.
Meanwhile, officers made the parents of five girls found "drunk and incapable" travel from Bristol to collect them.
Police officers on Operation Brunel are trying to crack down on the number of under-age drinkers in the resort over the summer months.
'Two deaths'
The move comes as about 4,500 teenagers are expected to visit the town to celebrate the end of exams.
Insp Ian Drummond-Smith said: "Once again this year we are finding that parents are providing their under-age children with alcohol to drink on holiday in Newquay.
"We're doing what we can but we need parents to help us by being responsible and not providing alcohol for their children to drink unaccompanied in Newquay."
Operation Brunel sees officers based at the town's railway station meeting visitors off the train at peak times and confiscating alcohol.
As part of the scheme run by Newquay Safe Partnership, the parents of the five girls were made to make the 226-mile round trip from Bristol to collect the 16-year-old girls.
The partnership was formed in 2009 ago after two teenagers died in the resort.