Cornwall Council pay comes under scrutiny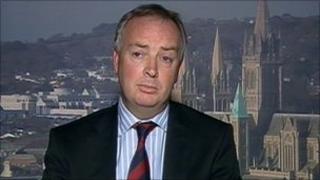 Cornwall Council spent nearly £1.2m on the salaries and benefits of its leading officials in the past year, new figures released by the authority show.
The total paid to the chief executive Kevin Lavery and seven others is £75,000 less than in the previous year.
The new figures have been published as efficiencies, including hundreds of redundancies, are being formalised.
The pay figures came from the council's annual statement of accounts which has just been published.
The overall bill for the top eight officials went down since 2009/10. In the past year it came to £1.177m as opposed to £1.252m the year before.
The Conservative-led council argued it is a large authority with its senior staff overseeing more than 19,000 employees.
'Cut out waste'
The chief executive and five other corporate managers have also agreed to pay cuts this year, the council revealed.
Liberal Democrat councillors have attacked the figures and called on officials to justify the figures.
Mr Lavery has taken a 5% cut since 1 January and the corporate directors agreed to a 3% cut from April this year.
His pay and pension package for 2010/11 is now £245,342.
Cornwall Council said: "The salary levels for these posts are in line with the salary levels paid by other similar councils across the country.
"We are working hard to cut out waste and reduce bureaucracy.
"Of the £170m savings we need to make in our emergency budget over the next four years, £9 out of every £10 is coming from efficiencies such as streamlining management, cutting duplication and rationalising property."