Concern over Newquay school's sale proposal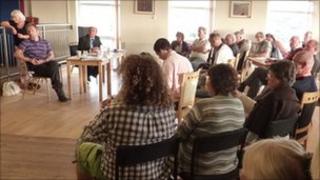 Plans by a Cornish school to sell part of its site to a supermarket were described at a public meeting as "concerning".
Newquay Tretherras is in talks with Tesco. Nearly 100 people attended the meeting on Tuesday.
The school, an academy, wants to raise funds for improvements to its other buildings by selling off some land.
On its website, it said proposals were at an early stage and it promised to involve local people.
Alison Smith-Scotland, who has three children at the school, said: "My main concern is that I don't think we need another supermarket, and I don't want a supermarket next to my children's school. The amount of traffic it would cause, and the amount of litter too."
'Securing standards'
Alistair Allen, who runs a nearby family business, said: "One of the reasons the school used for applying for academy status was that they were afraid the local council would sell off the sports field.
"Two years later they are selling it themselves."
No-one from Newquay Tretherras school has been available for comment.
On its website it said it wanted to "remodel the main school building to meet the needs of the local community for generations to come".
The school's chair of governors, Richard Simeons, said: "We are committed to continuing to improve the school's facilities and increase the opportunities we provide for our students and the local community.
"Funding for capital investment is scarce so the sale of part of this redundant part of the site is essential to securing the long-term standards of the school.
"This funding will enable us to invest in the school's facilities to create an improved learning environment for our students, as well as new life-long learning facilities for the whole community."
Cornwall Council said it could not stop the school selling off the land to a supermarket.
It said many of its schools needed updating but government cuts meant there was little money for the work.
Newquay Tretherras' status as an academy means it is now outside control of the local authority.