Baby lobsters released off Isles of Scilly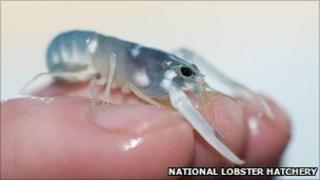 Thousands of baby lobsters have been released off St Mary's in the Isles of Scilly.
The National Lobster Hatchery, based in Padstow, said it had "successfully" released 3,156, one-inch long crustaceans to increase numbers.
The charity said this was their "biggest release on the islands".
Last summer, 1,000 baby lobsters were released around the islands. The lobsters are released down a long tube directly on to the seabed.
'Remain sustainable'
Dr Carly Daniels, one of the technicians who travelled with the baby lobsters, said they were transported in cool boxes on the Scillonian ferry to the islands.
Divers then delivered the lobsters to the sea bed off the east side of St Mary's at Gat Point.
Dr Daniels said: "As long we can keep releasing lobsters back into the wild the fisheries will remain sustainable."
The hatchery said the lobsters would bury themselves in the sand for the first two years of their life while they grow.
It is hoped fisherman would notice an increase in the number of lobsters in the water after three years.
The lobster hatchery was set up to support the sustainability of the lobster fishery around Cornwall.
Last year the charity released 13,000 baby lobsters. The hatchery said it hoped to release about 20,000 during 2011.