New aircraft arrives at RNAS Culdrose in Helston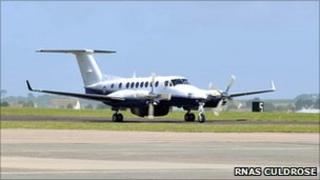 A naval squadron in west Cornwall has received the new King Air Avenger aircraft which will be used to train naval observers.
The aircraft will be based at the 750 Naval Air Squadron at Royal Naval Air Station Culdrose in Helston.
The King Airs are part of the United Kingdom Military Flying Training System (UKMFTS).
It is a training organisation which caters for the Royal Navy, the RAF and the Army Air Corps.
The aircraft will provide training for observers and navigators to equip them for further operational training in modern aircraft.
The King Air has a top speed of more than 350mph and a maximum range of almost 2,000 miles.
The first observer students to enter the UKMFTS pipeline have started their Initial Flying Training and Elementary Navigation Training at RAF Barkston Heath in Lincolnshire.
They will move to 750 Squadron in Helston in October for basic flying training on the King Air Avengers.
Lt Cmndr Nick Armstrong, Commanding Officer 750 Squadron, said: "As the variety of tasks we have to achieve continues to grow, Observers have to become even more flexible, adaptable and capable then ever before.
"We achieve this by continuing to teach many of the things Observers of 50 years ago would have been familiar with, but on modern equipment with modern techniques that more closely reflect how we operate on the front line.
"The King Air Avenger will allow us to do exactly that."