Sailors saved in 'difficult' rescue off Isles of Scilly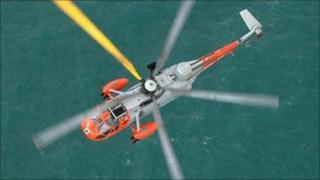 Two sailors were rescued off the Isles of Scilly after their 36ft (10.9m) yacht got into trouble in gale force winds and rough seas, coastguards said.
The two men were winched to safety by a rescue helicopter from RNAS Culdrose 75 miles (120 km) south west of the islands on Thursday night.
One man had to be rescued from the water after the life raft he was on capsized.
The winchman described the incident as an "extremely difficult rescue."
Coastguards said the two Dutch nationals were not injured.
The two men aged 41 and 54 alerted Falmouth Coastguards that they were in trouble at about 2020 BST.
'Extremely difficult'
The rescue helicopter located the damaged yacht at about 2240 BST.
The two men had to abandon the yacht and get into a life raft because winching them to safety over the deck was impossible in the gale force conditions, the Maritime and Coastguard Agency said.
"It was an extremely difficult rescue, this was at the top - it was A grade," said Sgt Tony Russell.
After the rescue he said the two sailors "were quite shaken but extremely grateful".
Falmouth Coastguard watch manager Peter Bullard said: "The conditions for the helicopter rescue crew were extremely challenging with gale force winds, rough seas and darkness.
"Transfer either to helicopter or a vessel would always be difficult under these conditions."
Coastguards said they believed the yacht, named Andriette, had suffered some damage on Wednesday but had continued on her journey from the Azores to Malmo in Sweden.