Calls for longer parking for blue badge drivers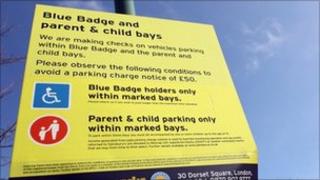 Blue badge holders may be given double time for their money in Cornwall's car parks.
The idea will be debated by the county council in the next few months.
Around 30,000 people in Cornwall have a blue badge and two-thirds have to pay in the authority's parking areas.
Council officers estimate the suggestion, if passed, would cost Cornwall Council around £450,000 in lost revenue.
Sharon Kilty from Penzance is a blue badge holder and uses a wheelchair who is strongly behind the idea.
"I have got severe arthritis, which I have had since I was 20. Although I can walk a little bit. I can't walk very far.
"It would make a huge difference if I could have a longer time to park. At least it would give me time to deal with all the logistics. The extra time is essential."
Peter Moore, Cornwall Council's community transport manager, said there was a long way to go before the idea could be officially adopted.
"The cabinet would decide to put that and any other changes to a public consultation process.
"That would take place in around November, and then in the new year we would introduce the new charges."
The blue badge scheme which operates throughout the UK is managed by local authorities, who deal with applications and issue the badges.