Cornish award for Lord Lieutenant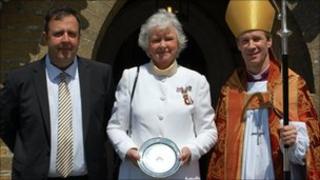 An accolade from the family of Bishop Trelawny who was imprisoned in the Tower of London in 1688, has been awarded to Cornwall's outgoing Lord Lieutenant, Lady Mary Holborow.
The Trelawny Plate was first presented six years ago.
It celebrates the person who has done most to both promote Cornwall and the spirit of the county.
Past winners include ShelterBox founder Tom Henderson OBE.
Over many years Lady Mary Holborow has co-ordinated many Royal visits. There are approximately ten a year to various parts of Cornwall.
Lady Mary has also presented honours and awards on behalf of The Queen.
A special service was held at Pelynt Church near Looe to celebrate the award.
The original plate is in the Royal Cornwall Museum in Truro. A pewter replica, donated by Sir John Trelawny, was presented to Lady Mary.
Commenting on the award, she said: "I really feel honoured and humbled in fact that people have decided they wanted to give me the Trelawny Plate. It was just very very special."
Jonathan Trelawny who was ordained in 1673, was one of seven bishops charged with high treason and imprisoned in the Tower of London for refusing to implement King James II's Declaration of Indulgence granting religious tolerance to Catholics.
He died in 1721 and was interred in the family vault at Pelynt Church.