Fears for the future of Hayle's outdoor pool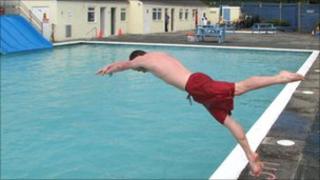 People in a west Cornwall town are being warned an open air swimming pool could close unless they use it more this summer.
Hayle's outdoor pool's annual grant from Cornwall Council has been reduced by two thirds.
Up until this year Cornwall Council provided £22,000 towards the running costs of the pool. That figure has been reduced to £8,000.
Those running the pool have been told there will be no support in 2013.
Hayle Town Clerk Ellie Giggal said the town council will be examining the pool's finances very closely at the end of the summer.
She said: "If we take £7,000 in the weeks of opening, we won't have covered the costs."
Hayle Outdoor Pool is owned and run by Hayle Town Council with lifeguards provided by Cornwall Council.
Andrea Stephens from Penzance uses the pool regularly during the summer.
She said: "It's such a nice pool. It's safe. You can see your children from every angle. The children love it."
The town council is hoping for high numbers of pool users this summer. It is also organising a fundraising day.
Ms Giggal said people in the town must use the pool regularily if they want it to stay open.