Cornwall nurse tells of life on a hospital aid ship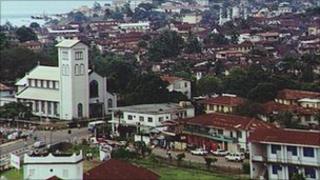 A theatre nurse from west Cornwall has returned to the county after working in Africa.
Sally Pentecost, from Trewellard, spent three weeks aboard a specialist vessel operated by Christian charity Mercy Ships.
The ships are staffed by qualified health workers volunteering to deliver medical aid and food relief to some of the poorest countries on earth.
Mrs Pentecost said she had seen first-hand just how desperate some African communities were for food and medical aid and such simple things as clean water.
It comes as international aid charities warn that a famine could soon be declared on the Horn of Africa.
The nurse, from the Royal Cornwall Hospital in Truro, worked on board the mercy ship, Africa Mercy. It was docked near Freetown, in Sierra Leone.
Mrs Pentecost said: "All I saw was poverty, open sewers, no clean water, shanty towns; but very happy, cheerful people.
"Water was available but you had to buy it. They washed their clothes in dirty water."
Mrs Pentecost said: "It's something I always wanted to do. I have a talent and I wanted to use it. These people have nothing.
"They have to pay for their medical aid. It's such a poor country, so many don't have the finances to fix things like hernias, which are relatively cheap to do and life changing.
"They get huge hernias because of the massive weights they have to carry on their heads."
On board the Africa Mercy, Mrs Pentecost was taking part in at least eight hernia operations a day.
She also worked on patients who had lipomas.
Mrs Pentecost said: "A lipoma is a fatty lump. People get small ones in this country. But these were the size of grapefruits on necks and arms. We operated from around 8am to 5pm."
Sally Pentecost admitted the experience had changed her life. She said she wanted to do more work on the ship.
"I have had a very kind donation from a man in Penzance, so I just need to raise the air fare now."