RNLI returns to 'traditional lifeguarding' in Cornwall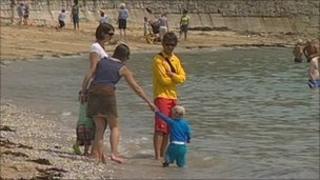 RNLI lifeguards in Cornwall are to make changes to the way they operate on beaches because they are "not there to care for people", the charity said.
The RNLI said the changes would see it returning to what it called traditional lifeguarding, with more guards out on foot to talk to people.
It said people were responsible for their own safety but it would warn of dangerous conditions and give advice.
It is 10 years since the organisation began its county lifeguard service.
'Not babysitters'
RNLI lifeguard inspector Steve Instance said: "When people come to beach, they are responsible for their own safety.
"We're not responsible for them. We're not a babysitting service for your children when you come to the beach. You're responsible for your own safety and the safety of family and other groups with you.
"We will warn people of any dangers, but we are not there to care for people.
"What we really need is for people to listen to announcements, to read the signs, and to come up and talk to lifeguards and find out a little bit about what's happening on their beach."
Guards are also to spend less time driving about in four-wheel drive vehicles to increase contact with the public, Mr Instance added.
He said that "most people would not notice the changes".
Cornwall's service will still be equipped to perform rescues if required.
At Gyllyngvase Beach in Falmouth, a brand new £30,000 watch tower has been constructed.