Stroke support group calls for new members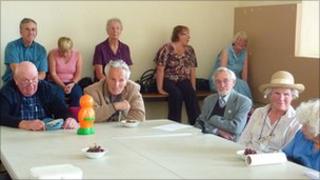 A club for people who have suffered strokes in Cornwall is appealing for new members to ease pressure on its finances.
Until three years ago the rent for the club's meeting room was paid for by the Stroke Association.
The funding came from Cornwall's Primary Care Trust which then diverted that money elsewhere.
Since the Next Step club in Liskeard lost its funding it has been run by volunteers and stroke survivors.
Brian Wheeler was just 29-years-old when he suffered a stroke. Since then he said life has been a struggle.
Today Brian, now 62, said the meetings of the Next Step club are a highlight for him.
"It's good because they are all the same as me. Some of them can't remember things, some of them can. I hope I give them back what I feel.
"I am weak down the right side of my body. When I get tired I sound like I am really drunk."
The club volunteers said they are desperate for more members. Stroke survivors contribute towards the costs and a few legacies have also helped.
Members of the Next Step club meet every Monday. John Harvey, 82, had a stroke four years ago. His wife, Barbara, brings him every week. She said: "I have a couple of hours where I can relax completely.
"Possibly even more important I can talk to other wives. They understand what it is like which is very important."
Judy Walker, the Stroke Association's regional director of operations, said she wished the association could support such important clubs.
"I wish there were more of them around Cornwall. I wish the funding could be found to support them.
"They provide something which nobody else is providing. There are no real comparable resources in the community for many stroke survivors and their carers."