Liskeard GP welcomes 'phone slot' patient system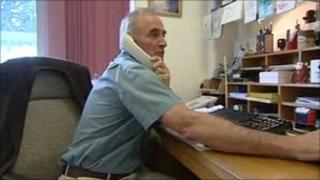 Patients at a GP practice in Liskeard are among just 40 in the UK to test a new system in which symptoms are first discussed with the GP over the phone.
The doctor may then decide that a face-to-face consultation is necessary.
Dr Steve Jefferies, from the Oake Tree Surgery, said he was able to help up to 60 people a day using the system known as Patient Response.
But one patient, Elaine Paige, said that for her careful face-to-face questioning was more preferable.
"Simply by looking at you with a trained clinical eye, he can see by the colour of your skin, your demeanour or merely by the way you are walking what is wrong with you and he won't find all that out on the phone."
Dr Jefferies said the new system was safer and enabled patients to get contact with their doctor on the same day.
"Before I was seeing between 30 and 40 patients a day.
"I'm now taking 50 or 60 telephone calls a day, speaking to my own patients, working out what is the best way of helping them."
Caroline Stead, associate director of Primary Care for NHS Cornwall and Isles of Scilly, said a number of GP practices in Cornwall now operated a 'triage' system over the phone.
This was intended to ensure patients get their treatment from the most appropriate place, she said.