Patient worry over Liskeard GP 'phone appointments'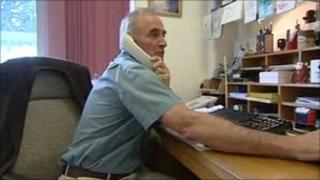 Some residents in Cornwall have said they are unhappy that their GP surgery is using phone, rather than face-to-face appointments.
Oak Tree Surgery in Liskeard asks patients why they want to see a doctor before a GP returns their call and decides if an appointment is necessary.
But some patients have said they are concerned about mis-diagnosis.
NHS Cornwall said the system was to ensure patients got "treatment from the most appropriate place".
Dr Stephen Jefferies said: "Before, I was seeing between 30 and 40 patients a day and taking two or three telephone calls.
"I'm now taking 50 or 60 telephone calls a day, speaking to my own patients so I can work out what is the best way of helping them.
'Clinical eye'
"Sometimes they want to see me, sometimes it might be more appropriate for them to see a nurse practitioner.
"So basically I'm triaging the problem for the patient and then responding in the fastest and most helpful way that I can for them."
There are currently about 40 practices in the UK, including five in Cornwall, which operate a phone triage system.
But patient Elaine James said: "When you go and see a doctor you often go in with a problem, it's not the real problem is it? By careful questioning the doctor can find out what the real problem is.
"Equally just by looking at you with his trained clinical eye he can see by the colour of your skin, your demeanour, the way you're walking, what's wrong with you. I don't think he's going to find that out on the phone, is he?"
Caroline Stead, assistant director of primary care for NHS Cornwall and Isles of Scilly, said: "It is up to individual GP practices how they structure their systems for booking appointments.
"Phone triage systems are intended to help make sure that patients end up getting their treatment from the most appropriate place."