Oversized crab found in Cornish waters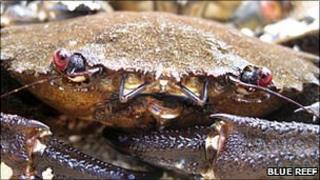 A giant devil crab more than three times heavier and almost twice as big as normal has been caught in Cornwall.
The velvet swimming crab, which is also known as a devil or witch crab, was caught by Cornish fisherman Ned Bailey who comes from Mylor.
He found it in his crab pot about a quarter of a mile south east of St Anthony Lighthouse in Falmouth Bay.
Mr Bailey has donated his unusual discovery to the Blue Reef Aquarium in Newquay.
Normal specimens weigh around 90 grams with a shell that measures six centimetres across.
The crab caught in Cornwall tips the scales at 268 grams and is more than 10cms across.
Blue Reef curator, Matt Slater, said he was fascinated by the crab.
"We're still not sure that he's the biggest ever caught in the UK but he's certainly the largest anyone here has ever seen.
"He's significantly heavier and longer than anything we can find in our reference books."
Velvet swimming crabs get their name from the fact that their shells are covered with dense, velvety hair.