RNAS Culdrose opens to the public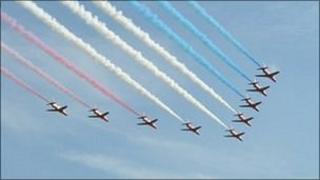 One of Europe's largest helicopter bases, RNAS Culdrose, will open its doors to the public on Wednesday.
Air Day is the only time of the year that the public is allowed through the gates of the base in Helston.
Frontline helicopter Squadrons from Culdrose support the Navy across the world.
RNAS Culdrose is home to a variety of military aircraft including Merlin and Sea King helicopters, Hawk Jets and the new King Air 350 Avengers.
Air Day features a four-hour flying display and over the years has attracted aircraft from 19 countries.
This year the Red Arrows and the Royal Jordanian Falcons will give aerobatic displays.
Iconic aircraft from past conflicts will also take to the air in the Battle of Britain Memorial Flight.
Visitors will be able to meet navy aircrew and members of the Search and Rescue Squadron who are on constant standby to react to emergencies throughout the South West.
The RNAS Culdrose gates open at 0900 BST.