Tremough scientists' fears over Pacific Ocean turtles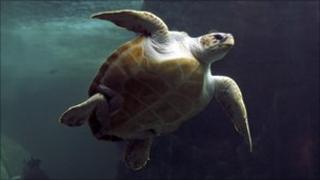 Sea turtles are coming under increasing threat from small-scale fishery practices in the Pacific Ocean, Cornwall scientists claim.
Findings produced on Tremough Campus in Penryn, suggest many turtles are being unintentionally landed as "bycatch".
The study focused on a number of fisheries operating out of Peru.
It shows sea turtles from Australia, Costa Rica and Mexico are all being caught up in gear used by the fisheries.
"Bycatch" problems are usually associated with large-scale industrial fishing, such as trawling and longlining.
Scientists monitored four key fisheries to observe fishing techniques and record the number of turtles caught.
'Significant impact'
The study showed the effect of small-scale nets and longlines on the marine turtle population.
The scientists said some turtles were kept for consumption, but while the majority are released alive, they have often sustained injury getting tangled in the fishing gear.
Senior author Dr Brendan Godley of the University of Exeter's Tremough Campus said: "We have known for a long time that, along with sharks, marine mammals and seabirds, marine turtles often become bycatch as a result large-scale fishing.
"It is only recently that we have begun to realise that small-scale fisheries may also have a significant impact on marine life. We were very surprised when our study revealed just how large an impact small-scale fisheries have on sea turtles."
The researchers said it was important to find a solution without damaging the livelihood of the local fishermen.
Details of the project, led by the Cornish scientists, has been published in the Journal of Applied Ecology.