Culdrose squadrons complete 1,000th Afghanistan mission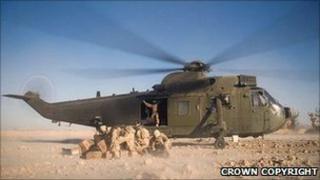 Sea King helicopter squadrons from Royal Naval Air Station Culdrose have completed their 1,000th operational mission in Afghanistan.
Sea King Mk 7 Force Squadrons have been operating from Camp Bastion since 2009.
The helicopters are normally used to provide Royal Navy ships with protection against low-flying enemy aircraft and missiles.
A Navy spokesman said: "Their actions have directly helped save the lives of Afghan citizens and coalition troops."
During these missions, 857 and 854 Squadrons have also enabled the discovery of significant amounts of IED-making equipment, arms, drugs and suspected insurgents, the Navy said.
Commander Pat Douglas, Sea King Force Commander, said each successful interception "means that less IEDs will be planted in Afghanistan, making it a safer place for both troops and the Afghan people".