Bus routes in Cornwall 'will be axed' if funding is cut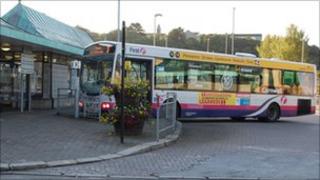 Bus companies in Cornwall have said routes will be axed if the council does not find a way of funding the shortfall for concessionary bus fares.
Cornwall Council said it has had to make cuts because government grants have been reduced.
The bus operators have been told the cuts will be backdated to April.
The issue will be discussed by the council's scrutiny committee next Wednesday. Bus companies have said they are very worried about the news.
Managing Director of bus firm Western Greyhound, Mark Howarth, said: "This is an absolute disaster for the people of Cornwall.
"At the moment we're getting a re-investment rate of 73.5% of what we would get if it was a full paying customer. We have had a letter to say that amount is going to be reduced to 44%."
Mr Howarth has warned the cuts would mean large reductions in bus routes across Cornwall.
"We are already preparing de-registration for 17 complete routes that we will take out," he said.
"We are talking about routes in north Cornwall, west Cornwall, Torpoint, and even some city routes. It's right across the board, seven days a week."
The councillor in charge of Transportation, Graham Hicks, said: "There has been a 30% cutback in grants. These are cuts imposed by central government. We have to deal with them in the best way possible, but of course I am concerned."
First Buses which also runs many services in Cornwall has released a statement.
It said: "If the amount of money received per concessionary passenger falls that means that we'll have to look at service levels we currently operate.
"Ultimately this decision may result in a significant number of routes being completely withdrawn. We would urge the council to reconsider, taking into account the far-reaching effects that this decision will have."