London 2012: Cornwall thrives on 2012 Games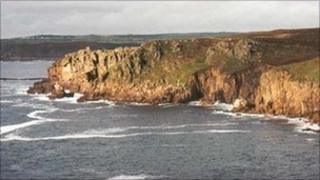 With one year to go before the 2012 Olympic Games, Cornwall is getting involved in the countdown fever.
Although there are no official training camps in Cornwall, the eyes of the world will be on at least one historic part of the county.
Land's End is the starting point for the Olympic torch relay on Saturday 19 May 2012.
After leaving the west Cornwall landmark, the torch will be carried though a number of towns and villages.
At the time of the announcement, Cornwall Council Leader Alec Robertson, said: "The decision to choose Cornwall as the starting point for the 2012 celebrations offers us a wonderful opportunity to showcase the very best we have to offer and it is an opportunity that we will grasp with both hands."
Sailing champion
His words appear to be ringing true with various school and organisations in the county.
Falmouth has succeeded in its bid to host a prestigious pre-Olympic Finn Class sailing event before London 2012.
About 200 international competitors will attend, with many expected to stay on during their Olympic preparations.
Cornish sailor Ben Ainslie, who has previously won four Olympic medals, learned to sail in the waters around Falmouth and so will return to home ground for the Finn Festival.
Mr Ainslie said: "It fills me with great pride that Cornwall will get to show off her excellent sailing facilities, I'm looking forward to competing in May 2012."
Cornish schoolchildren are also getting involved in the Olympic countdown.
In June more than 1,000 Cornish school students took part in the biggest sporting event for young people the county has ever seen.
The Cornwall School Games was one of only nine piloted across the whole of the country this year, as the start of the legacy being built from the 2012 Olympic Games.
Cornwall's primary schools have brought the Olympic Games into the classroom.
St Breock CP School, near Wadebridge, organised its own mini Olympic Games week with children representing different countries.
The school also beat off stiff competition from more than 6,500 other schools to make it through to finals of a London 2012 Olympic Games cookery competition.
The dish, which might eventually feature on the menu in the Olympic Village, included lemon sole with beetroot salsa.
The rice was packed with ingredients including mushrooms, sweetcorn, and peppers.