Cornish teenager shaves head in memory of her brother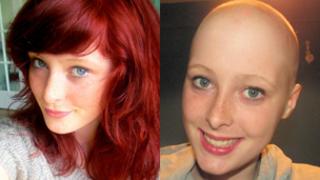 A teenage girl from Cornwall whose 19-year-old brother died of leukaemia has raised more than £1,000 for charity after having her hair shaved off.
Hannah Cartwright, 15, from Tolvaddon near Camborne, came up with idea after her brother Ian was diagnosed with the disease in April.
Hannah had her hair cut and shaved off on what would have been Ian's 20th birthday.
The money raised will go to the Cornish charity Tanya's Courage.
Her brother Ian died in May, a month after he was diagnosed.
Their father Malcolm Cartwright said: "We just couldn't believe that he had gone down with such an illness, and then six weeks later that he had gone from us.
"It's impossible to believe. We have to believe because there's an empty bed and an empty room.
"You just can't visualise that he's never going to walk back through the door."
The family wanted to do something to raise funds for a Cornish charity which supported Ian during his illness.
Hannah said: "As a person Ian was so lovely. In hospital everyone fell in love with him.
"Tanya's Courage charity just adored Ian. They are lovely people.
"Ian hated his hair, but it was just the fact that he would lose it and he had no choice in that. I wanted to do it too.
"My other two brothers also shaved their heads, and Dad shaved his. I'm very vain about my hair so it was a big thing for me."
Tanya's Courage was set up in memory of a leukaemia sufferer from St Austell. Tanya Billing was only 17-years-old when she died.
Tanya expressed the wish to help others of her age group. Her family set up Tanya's Courage Trust in 2005.