Cornish-based designer wins award at RHS Tatton Park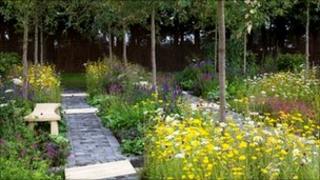 A Cornish-based garden designer has won National Young Designer of the Year at the Royal Horticultural Society Tatton Park Flower Show.
Daniela Coray, 26, who graduated last year received the award in front of her garden, 'A Stitch in Time Saves Nine'.
Ms Coray, originally from Virginia USA, came to the UK in 2007 to study Garden Design at University College Falmouth.
The inspiration behind the design and concept "looked into alleviating environmental concerns in urban areas".
Ms Coray, who has been working on the garden since October 2010, started by looking at orchards in urban spaces "because they are a lot more productive for people and wildlife".
The final garden, laid out on a grid, incorporates 12 orchard trees each with its own planted wild flower area beneath it.
The judges liked the "juxtaposition between the geometry and the softness of the planting" commenting on how it "looked like it had been there for some time".
Ms Coray hopes to continue her career living in Falmouth and working in the area.