St Agnes Head cliff plunge driver leaves hospital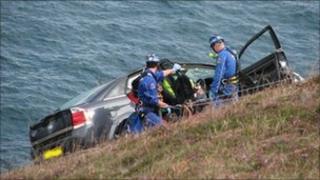 A 56-year-old woman who was rescued after spending the night trapped in her car on the edge of a Cornish cliff has been discharged from hospital.
The woman suffered leg injuries when she plunged over a 300ft (91m) cliff at St Agnes Head on Monday.
She was freed after joggers spotted the car on Tuesday morning and flown to the Royal Cornwall Hospital in Truro.
The woman, who has not been named, told rescuers the car left the road in misty conditions.
She said the vehicle, which came to rest on a ledge metres from a steep drop into the sea, had rolled over several times.