Cornish lifeboat man retires after 38 years' of service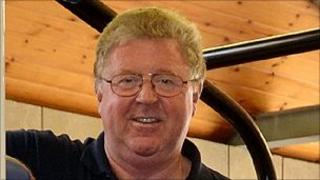 A 55-year-old man who has served on the St Ives lifeboat for 38 years has retired.
Tommy Cocking was the coxswain and mechanic on the boat and enrolled in 1973 as a crewman.
He said it was time for someone new to takeover the roles and felt technology was becoming too advanced for him.
Mr Cocking has received a number of awards for his service including an incident in 1977, where the lifeboat capsized, while searching for a vessel.
He said the lifeboat righted itself and none of the crew was injured.
They were searching for the vessel called the Lady Kamilla, which was sinking off the Cornish coast.
'Paid for herself'
"I'm 55 and I've had a lifetime of this job - I think it's time to leave," he said.
"The new boats have new technology, I'm in a position at the moment where I'm on top of what I do, I don't want to start asking people how things work."
Mr Cocking said his most memorable rescue was of an 11-year-old boy.
"The boy was washed out of Hayle Estuary in the dark and we picked him up in the middle of St Ives Bay," he said.
"He was washed out about one mile and it was his eleventh birthday."
Mr Cocking said the boy was heard screaming and they used a flash light to locate him.
"If our lifeboat never saved anyone ever again, she paid for herself that night," Mr Cocking added.