Fake ID teens caught in Newquay by police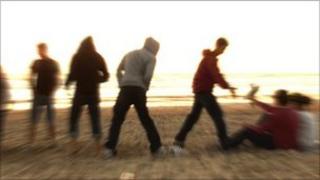 Police have caught 13 teenagers this month using fake ID to try to purchase alcohol or enter a pub or club in Newquay, Cornwall Council said.
Police officers said underage teenagers in the town were also using other people's passports to try to enter clubs and bars.
Seized passports were being sent to the national Passport Office, said police.
The crackdown is part of the Newquay Safe Partnership which is hoping to stop anti-social behaviour in the town.
Cornwall Council's, Beverley Hill said that the parents of almost 70 people aged under 18 had been contacted about their children's behaviour.
She said all had been caught drunk, or found with large amounts of alcohol.
Ms Hill said the parents would be visited by their local authorities to discuss the incident.
Inspector Ian Drummond-Smith, of Devon and Cornwall Police, said: "It is an offence to alter or use someone else's passport."
Cornwall Council said the figures related to incidents from the 1 July.