St Ives helicopter flights noise fear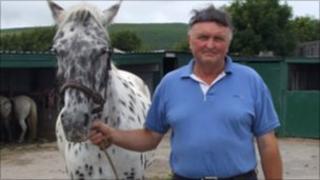 A series of sightseeing helicopter flights over St Ives have caused concerns over noise.
Slough-based Adventure 001 is offering four days of tours from a field in St Ives starting on 9 August.
It said all profits, expected to be between £4-£5,000, would go to the Cornwall Air Ambulance.
But nearly 100 people attended a public meeting this week and there is a petition calling for the flights to be scrapped.
Vaughan Bennett, who owns a nearby riding stables, said: "It's not just taking off and landing, it's the overall noise.
"People like to come here for peace and tranquillity and have a nice ride in the landscape.
"They can't do that with this thing rattling around over their heads all day."
The planned flights follow a series of tours over the area in June from another site.
Neil McLaren of Adventure 001, said: "We we are only doing it to support the air ambulance.
"I will be writing a cheque for £4-£5,000 and if we make more than that I will give that as well.
"There will not be any commercial gain."
Paula Martin, chief executive of the Cornwall Air Ambulance Trust, said: "We are £20,000 behind on our running costs, so any donations are much needed.
"We received £1,000 from Adventure 001 from their June flights and we are hoping they will be able to do this week in August."