Recycling depot to be discussed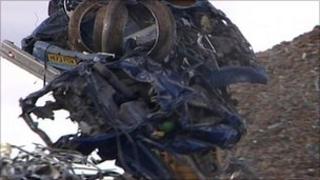 Objectors have claimed plans to open a new business in Cornwall could result in the loss of local jobs.
On Monday evening, parish councillors will discuss a proposal from national scrap company, European Metal Recycling.
It wants to open a recycling depot at United Downs near Redruth.
The company is refusing to comment on claims from objectors that the move could endanger jobs at the three existing scrap dealers in the area.
Nearby industrial estate boss John Gotts will be lobbying against the scheme.
He said: "A scrap yard on the edge of the industrial site would devalue my buildings by nearly £300,000."
An existing scrap yard at United Downs, Orchards, was founded in 1959.
Owner John Orchard said: "It's going to have an effect on our business, so we will probably shed jobs for a site that will only give employment to six people, which could easily lead to the loss of 30 jobs in the local vicinity."
Parish councillors for the Gwennap and Carharrack areas are joining forces to discuss the issue later.
The Cornwall councillor for the area, Mark Kaczmarek, will be visiting the site on Tuesday.
He said: "I am taking the scrap merchants who trade out there to meet a planning officer and we will look at the plans and go through the application to see what is and isn't allowed on the site."
The BBC contacted European Metal Recycling Limited who refused to comment on the planning application, which is currently in the middle of a consultation process which ends on 11 August.