Lifeguards Andy Waterfield and Jamie Rowlands win awards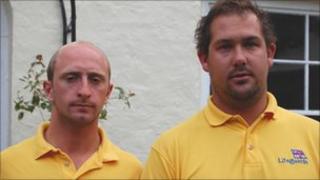 Two lifeguards from Polzeath on the north Cornwall coast, are to receive one of the RNLI's top awards.
Andy Waterfield and Jamie Rowlands are to receive the Alison Saunders Lifeguarding Award after they rescued three surfers in October.
The award is given for the most meritorious rescue by RNLI lifeguards during the previous season.
The surfers were rescue as they were heading dangerously close to rocks off Polzeath, in October 2010.
It took place on the final day of the RNLI's lifeguard season.
When the two lifeguards spotted the surfers in difficulty they launched the inshore rescue boat.
'Close calls'
"The conditions weren't great, there was a really strong cross shore wind blowing, and around five foot of messy surf," Mr Waterfield said.
The casualties had then become caught in the rip current that runs along the Polzeath rocks at high tide.
"One of the three surfers had managed to scramble onto the rocks and up the cliff to safety," Mr Waterfield continued.
"The other two were struggling and in danger of hitting the rocks, or being dragged further out along the headland."
Remembering the rescue mission, Mr Rowlands said: "We had a few close calls. It was hard to get out there without flipping the rescue boat."
The lifeguards said they felt humbled about receiving a prestigious award.
Mr Rowlands said: "It means a lot, but we don't do it for the recognition. It definitely made the longer lifeguarding season worthwhile."
The awards will be presented on Polzeath beach later.