Mental Health: Eating Disorders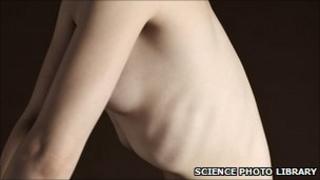 Every year about 20 people in Britain die from anorexia - the eating disorder which compels them to deprive their bodies of food.
It is thought that about 165,000 Britons have some sort of eating disorder.
Most sufferers are female, although the latest evidence suggests about one in ten is now a male.
One person who developed anorexia at the relatively late age of 27 is Victoria Buchan, who lives near Grampound Road in mid Cornwall.
She admitted for a while she did her best to hide the anorexia from her doctor.
"There was always a response, always something I could hide behind," she said.
"Because of wearing baggy clothes they might not have seen I was losing weight."
Ms Buchanan, who is now fully recovered, said: "With anorexia there is a little voice that you get. There's a voice in your head that criticises, it judges, it tells you what you can eat and what you can't eat.
"There's a point where that voice starts to get smaller and then it's gone."
On Wednesday 3 August, BBC Radio Cornwall is hosting a phone-in about eating disorders. Presented by Laurence Reed the programme will hear from experts and those who have suffered from anorexia. You can take part from midday, by calling 01872 22 22 22.
Eating Disorders
According to the Cornwall Partnership NHS Trust, eating disorders are a mental health illness. They are often more about feelings than they are about food.
Anyone can develop an eating disorder, regardless of age, sex, or cultural or racial background.
If you have an eating disorder you may experience one or more of the following:
You have a marked pre-occupation and concern about food, shape and size, and gaining weight.
You would like to lose weight even though friends or family worry that you are underweight
You let people around you think you have eaten, when you have not
You are secretive about your eating habits because you know they are unhealthy
Eating makes you feel anxious, upset or guilty
You make yourself vomit or use laxatives in order to lose weight
If you have anorexia nervosa you will be very anxious about your weight. You will want to keep it as low as possible by strictly controlling and limiting what you eat.
Bulimia nervosa is characterised by recurrent episodes of binge eating and compensatory behaviour designed to prevent weight gain, such as vomiting, purging, fasting or excessive exercise.
Causes and help
It is unlikely that an eating disorder will be the result of one single cause. It is much more likely to be a combination of many factors, including low esteem, family relationships, death, problems at school, university or work.
If you think you may have an eating disorder, the Cornwall Partnership NHS Trust said it is important to talk to someone you trust. Your GP can also give advice and to talk to you about getting a diagnosis and the possible treatment options. These will depend upon individual circumstances.
Treatment includes dealing with the emotional issues, as well as the physical. It is done slowly so the patient is able to cope with the changes.
Cornwall has a specialist Eating Disorders Service. Patients will be offered an assessment with a community psychiatric nurse and a liaison nurse, specialist or clinical psychologist. There will then be a number of treatment options including:
Group or family work
Individual therapeutic support
Dietary and nutrition support
These are regularly reviewed to check how the treatment is going, and to ensure everyone is clear about the treatments and goals.