Cornwall trust's 'Everest' challenge for foundation status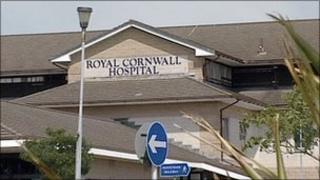 The Royal Cornwall Hospitals Trust faces a challenge of "Everest proportions" to achieve foundation status, one of its directors has said.
In a document leaked to BBC Radio Cornwall, project director Ethna McCarthy said a "step change" was needed to meet crucial deadlines.
The move would give NHS managers freedom to manage their own budgets.
The trust fears it needs to clear its £25m debts before its bid will be considered.
In the hospital document, Ms McCarthy admitted: "The scale of the challenge can not be underestimated - it is of Everest proportions."
Martin Watts, the chairman of the trust, agreed the challenge was "considerable".
"Just a few years ago the trust received a report which actually said the trust was heading for corporate failure," he said.
In 2006-7 the trust had £56m of debt, more than half of which has been repaid.
Failure 'no option'
Foundation hospitals were introduced by the Labour government in 2004 and now the Conservative-led coalition is keen to take the idea further.
Mr Watts said: "There are a number of trusts like our own, financially-challenged trusts, who are applying for FT (foundation trust) status.
"In an ideal world we would like to have no debt. That is not the way the world works.
"I think FT status is a big deal for the people of Cornwall.
"I think it's important to realise when a trust becomes a foundation, membership is appointed, governors are appointed. Therefore it is more owned by the local population.
"We are going to get this. Failure is not an option. This board is determined to achieve it, and we will."
The Royal Cornwall Hospital bid team has only days to reach agreement locally on the repayment of its existing debt, if it is to meet the government's deadline for foundation status applications early next year.