ShelterBox responds to landslides in South Korea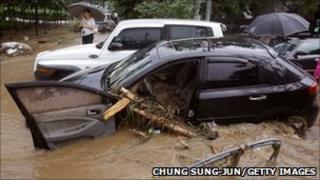 Cornish charity ShelterBox has sent a team to South Korea after the heaviest rains in a century caused widespread devastation.
Torrential rains at the end of July battered the capital Seoul and surrounding regions.
The severe weather also caused deadly landslides and flash flooding.
Kim Kihyon Kim and Noel Currie will work with local Rotarians to assess whether there is an unmet need for emergency shelters for local families.
The Helston-based charity has sent ShelterBoxes containing a disaster relief tent for a family of up to 10 people as well as blankets, water storage and purification equipment, cooking utensils and other vital items.
Mr Kihyon Kim said: "This is an extremely difficult time for people in Seoul and the surrounding areas. Floods and landslides have damaged thousands of homes.
"The authorities are undertaking a huge rescue and cleanup operation and ShelterBox want to ensure that families have access to the shelter and basic equipment they need to survive."
Rain has soaked much of the country for the past month.
The South Korean meteorological administration reported that 12 ins of rain fell in the capital on 27 July.
It was the biggest amount to fall in one day since 1998 and the third highest ever recorded.