Sea safety training for teenagers in Cornwall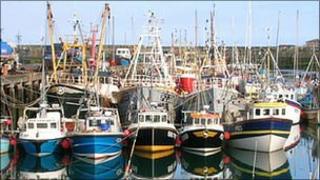 Teenagers who help their families in the fishing industry in Cornwall are being given specialist training.
Currently young people cannot gain certificates in sea survival, fire prevention, first aid and health and safety until they reach 16-years-old.
Seafood Cornwall Training claim many under 16s are out on the water without any necessary safety knowledge.
They are running free courses in the hope this will renew enthusiasm in the industry.
Former coastguard Mike Collier said: "This is a great opportunity for some of the kids already helping their dads or granddads in the fishing industry to be safer and become more aware of some of the dangers of being at sea."
The Sea Safety Training days have been developed by Seafood Cornwall with the support of the Cornish Fish Producers Organisation and seafood firm Falfish.
The courses will offer practical training on small inshore fishing vessels introducing key safety elements.
Paul Trebilcock, Chief Executive of the Cornish Fish Producers Association said the "need for young and enthusiastic individuals to join the industry" and the importance of a "culture of safety amongst fisherman from an early age".