Camelford Leisure Centre supporters launch campaign group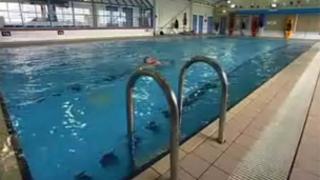 Residents concerned a leisure centre in north Cornwall may be closed have set up a campaign group to try to save it.
The Friends of Camelford Leisure Centre was launched at a public meeting on Wednesday amid fears it will not be included in a new charitable trust being set up by Cornwall Council.
The centre was given a £50,000 lifeline in December but has yet to find a viable long-term business model.
In April the council agreed to transfer leisure services to a charitable trust.
Members of the new friends group said their aim was to campaign for and raise funds to keep the centre going.
Camelford mayor Rob Rotchell said: "The proposals were fundraising, to raise the profile and to address issues like can we use volunteers.
"It's a big ask, but there is a firm determination that we are going to make this work."
The leisure centre employs nine full-time workers and six part-time staff.
If it did close, users would have to travel to other facilities in Wadebridge, Launceston, Bodmin or Bude.
A spokesman from Cornwall Council said the charitable trust was still in the process of being established.
A final decision on whether the leisure centre would be included in the trust has not yet been taken.