Truro could get second park and ride 'by spring 2013'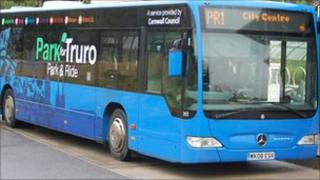 A second park and ride scheme for Truro to cover the eastern side of the city could start as early as spring 2013, a council transport official says.
It comes as the city's current facility celebrates serving 1.3m passengers since it opened three years ago.
Tim Wood, of the council, said the new scheme was currently in the planning stage.
Cornwall Council, which runs the existing scheme, said it had exceeded all expectations.
Figures from the council show the scheme on the western approaches to Truro takes 1,000 cars off the road every day.
The council said the existing scheme had eased congestion without having a detrimental affect on regular shopping habits.
Tim Wood, the assistant head of transportation at Cornwall Council, said of the second park and ride plans, which were first announced in February: "We have a scheme at the planning stage now. We're hopeful that it could start as early as spring 2013."
Mark Howarth, from Western Greyhound, which operates the existing service, said they had "worked well with the council to deliver high standards".
About 200,000 more people used the existing park and ride facility last year, compared to its opening year.