St Austell Brewery's Proper Job beer wins gold medal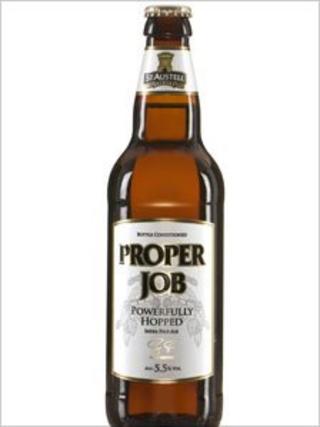 St Austell Brewery's Proper Job IPA has been named as the best bottled beer at the Great British Beer Festival.
The annual event, held at Earls Court in London, is run by the Campaign for Real Ale.
It is the second year the Cornish brewery has won gold. Last year its Admiral's Ale was crowned champion.
Proper Job beer is named after one of the most common sayings in Cornwall, which is an expression of satisfaction.
Roger Ryman, head brewer, said: "This event puts us head to head against some great beers from right across the UK, so we're incredibly pleased to see Proper Job honoured in this way, particularly after the success of Admiral's Ale last year.
"Both awards have come following the brewery's major investment in 2009 in installing our own bottling line and are a real endorsement of that investment and the growing reputation nationally of our 'brewed and bottled in Cornwall' ales."
James Staughton, managing director, said winning two years running was "very special".
"It is a huge tribute to Roger Ryman and his brewing team and a source of immense pride for everyone at the brewery."